Artwork donated to college
Theodosia Tamborlane of Cranford, a Union County College alumna, dedicated a painting, "Ombrello's World," to Union County College on Dec. 19, 2010.
Tamborlane, Class of 2008, earned her associate degree in fine arts after a career of more than 30 years as a lawyer. She was inspired to paint "Ombrello's World" while taking a horticulture course with Thomas Ombrello.
Ombrello, a 37-year employee, said he was surprised and honored when he learned of his influence on Tamborlane's work. In addition to teaching, Ombrello has established a historic tree grove at the college, in which trees have been grown from seedlings of trees with historic value.
Tamborlane had shown "Ombrello's World" in various exhibitions, including the Florida West National Juried Exhibition, prior to donating it to the school.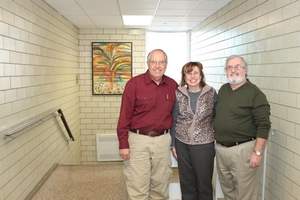 Theodosia Tamborlane of Cranford, a Union County College alum, dedicated her painting, "Ombrello's World," to the school. With her are college teacher Thomas Ombrello (left) and James L. Roberts, her husband.

COURTESY UNION COUNTY COLLEGE