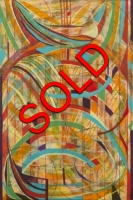 Theodosia A.G. Tamborlane paints in oil on paper and canvas and creates three dimensional collages and installation art. Theo is a full time painter who has her studio in Cranford, New Jersey.
Theo's paintings have been shown in over 90 group and solo shows in New Jersey, New York City, Pennsylvania, and Florida since 2008. Also, her paintings are in private collections around the USA and in Europe and Japan.
Theo is a member of the Art Students League, Pen and Brush, and the School of Visual Arts in New York City and, in New Jersey, the Contemporary Art Group and Studio Montclair.
You can contact her at or at (908) 276-4967 for more information or to place an order. You can also sign up for her newsletter by clicking this button: